As Christians, we are not immune to heartache and pain. In fact, we often go through more difficult times than those who do not have faith in God. But even when life is hard, we can still find hope and comfort in Him.
Yes, it can be hard to have faith in God when things in life are tough. But, these tips will help you to keep the faith even when things are tough.
The above verse instructs us to believe in God or continue believing in Him during hard times.
1. Recognizing God's Presence when things are tough
Remembering the presence of God can be difficult during times of hardship. We may feel alone and isolated when life is not going as planned.
But despite our circumstances, it is important to recognize God's presence in our lives. We can do this by building our faith through prayer, scripture reading, and meditation. In such instances, it's always divinely beneficial to stay believing in God, by:
a. Acknowledge that God is with you in the midst of difficulty
When life is hard, it can be difficult to trust that God is present. We're reminded:
Fear not, for I am with you; Be not dismayed, for I am your God.
I will strengthen you, Yes, I will help you,
I will uphold you with My righteous right hand.

Isaiah 41:10 (NKJV)
We can recognize the presence of God when we choose to stay alert and pay attention.
What does this look like in practice?
We can pray and ask for wisdom to know what steps we should take.
If any of you lacks wisdom, let him ask of God,
who gives to all liberally and without reproach,
and it will be given to him.

James 1:5 (NKJV)
We can also choose to not be overwhelmed by our situation, but rather trust that peace comes from knowing Him (Isaiah 26:3) intimately.
You see, He invites us to come closer and lean on Him in prayer:
The Lord is near to those who have a broken heart,
And saves such as have a contrite spirit.

Psalm 34:18
And use His Word as a source of strength in the midst of suffering:
For whatever things were written before were written for our learning,
that we through the patience,
and comfort of the Scriptures,
might have hope.

Romans 15:4
Seeking out our friends who encourage us with reminders from Scripture is another way to stay encouraged when life is hard. Proverbs 17:17 reminds us there is healing power in a loving community that loves us well. When we are going through tough times, their words could possibly give us hope.
Finally, another key way of recognizing God's presence with us during these hard seasons of life is allowing ourselves to feel His love entering into the darkest parts of our souls (Romans 8:38–39).
This doesn't take away our pain and suffering immediately but it helps restore peace over time as He begins transforming our hearts more towards Him and more away from pain.
b. Rely on God's promises
Life can be hard and filled with unexpected challenges. During difficult times, it's important to remember that God is always with us. He has promised us strength, peace, and joy, even in the midst of pain and turmoil.
Through faith, prayerful dependence on His promises, and listening for His still small voice of truth, we can traverse any journey in life.
God tells us everywhere in His scriptures that He will never leave us or forsake us (Joshua 1:9; Deuteronomy 31:6).
You can count on His promises when times seem darkest. Relying on 1 Corinthians 10:13 saying
"No temptation has overtaken you except such as is common to man; but God is faithful, who will not allow you to be tempted beyond what you are able, but with the temptation will also make the way of escape, that you may be able to bear it.
What the passage means is that you turn towards Him during these difficult moments of struggle so you can experience the grace, comfort, encouragement, and peace He offers for each one of us.
The book of Romans says:
And we know that all things work together for good to those who love God, to those who are the called according to His purpose.

Romans 8:28 (NKJV)
Implying, if we place all our trust in the Lord regardless of favorable or unfavorable circumstances, it will produce a deeper confidence within our hearts, as we learn to recognize God's presence even when life is hard.
2. Developing Faith in the Lord
Developing strong faith in the Lord can be difficult during difficult times in our life. When times are hard, it may seem impossible to keep faith and trust in God.
However, there are some ways to develop faith despite the challenges that we face.
Here, we will discuss the benefits of having faith and how to stay strong in tough times.
a. Read and meditate on God's Word
An important part of developing faith is to fill our minds with truth from God's Word so that we can rely on it when our trusting Him seems hard. Reading and meditating on scripture provides the wisdom that will help us lean into and trust in the Lord, even in times of difficulty and uncertainty.
When we meditate on God's Word, we are allowing His promises to take root in our hearts. As Romans 10:17 tells us:
" So then faith comes by hearing, and hearing by the word of God."
The Bible provides all the faith-building answers, instructions, and encouragement that we need.
Somewhere in the Bible, we read:
16 All Scripture is given by inspiration of God, and is profitable for doctrine, for reproof, for correction, for instruction in righteousness, 17 that the man of God may be complete, thoroughly equipped for every good work.

2 Timothy 3:16-17 (NKJV)
What is implied from the passage above is that reading the Bible helps sharpen our heart's spiritual senses so that when life hits hard, the words stick with us like a calming salve in a chaotic storm.
One way to approach reading scripture as part of your faith journey is to begin during a season of easily understood content such as Psalms or Proverbs – both incredibly rich books when taken a verse at a time.
Once you feel comfortable moving through passages more fluidly you can begin taking sections at once or exploring other books full of relevant topics like Daniel or Ezra which contain precisely written oracles from the Old Testament which still remain relevant today.
As you grow in your study it may be advantageous to become familiar with content deeper within texts such as Genesis which tell stories containing themes requiring context beyond what first meets the eye.
No matter where you are, the Bible contains stories and truths meant especially for you when looking through its pages – even if they were written ages ago.
b. Pray for strength and guidance
Praying to God during hard times can help provide you with needed strength and guidance. You can talk to God about your worries, ask for understanding, and plead for His help. He promises in His Word that He will give it:
"If any of you lacks wisdom, let him ask God, who gives generously to all without reproach, and it will be given him" .

James 1:5 (NKJV)
Praying can also help you feel connected to God. Being able to call out to Him in your times of need is a valuable source of spiritual strength and support.
When praying for strength and guidance, be honest with yourself, about your situation, and how you honestly feel about it. God knows your heart anyway so don't pretend things are OK when they're not.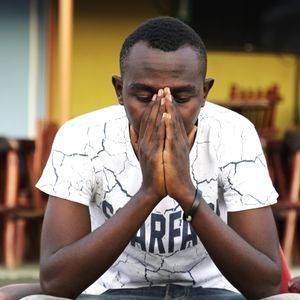 It's also ok to express angry emotions or pain – just try not to lash out verbally at anyone or anything in particular as part of your prayer request.
Ask God for help dealing with difficult situations in whatever way works best for you. Ask Him to give you patience, humility, and peace of mind.
Let Him know that while you don't understand why something has happened or why a certain path has been chosen instead of another one, ultimately His plan is best and that you can only trust Him since He knows the end from the beginning; whereas humans do not.
Allow yourself the freedom to understand without trying too hard to make sense of every detail when praying for guidance, because trust is more important than comprehension here.
Also, ask God in your prayer what actionable steps can be taken so that situations don't become stagnant or worse over time instead of improving as they should while being worked on by Him according to His will.
As you pray for strength and await the face of the Lord, you're to take one day at a time, abiding by His grace. I know His loving kindness knows no bounds.
Example of believing in God from the Bible
When David was troubled, the Ziphites went and said to Saul, "Is David not hiding with us?", David instead of being perturbed, rather prayed for deliverance from his adversaries. He prayed:
Save me, O God, by Your name, And vindicate me by Your strength.

Psalm 54:1
You too should pray just like David did.
c. Seek out wise counsel
When life is difficult and full of uncertainty, it can be hard to maintain faith. It's therefore important to remember that you're not alone in your struggles…
…actually, you have a crowd of friends and family, in the Christian fraternity, who can lend a listening ear and valuable insight.
I beseech thee to seek out these individuals when you need clarity on an issue or just someone to talk to.
None of us can go through life's challenges completely unaided; having a solid support system is essential during hard times.
When you seek wise counsel from mentors and trusted family members, it can help you remain grounded when storms arise, which is why it's important to cultivate those relationships in advance.
Encourage them to be able to speak candidly about your current situation, and offer practical advice when possible, but also impart spiritual truths from Scripture if needed.
The truth is, when working through challenges of faith together, prayer should always be included as a critical factor for finding peace amidst seasons of pain.
As confident as we may feel in our own ideas and decisions, ultimately the Lord provides strength and wisdom beyond what we could possibly think or ask (Ephesians 3:20).
Every situation is unique, so allow the Lord time to reveal His will in His way, because it may not look like you expected it.
Note what the Bible says:
5 Trust in the Lord with all your heart,
And lean not on your own understanding;
6 In all your ways acknowledge Him,
And He shall direct your paths.

Proverbs 3:5-6 (NKJV)
4. Practicing Faith whilst believing in God
Practicing faith in God when life is difficult can be incredibly hard, but maintaining faith can ultimately be incredibly rewarding.
Faith is trusting in a higher power to provide and care for us, no matter what situation we find ourselves in. It can be a great source of strength, comfort, and peace during times of hardship.
Let's look at some ways you can practice faith when life is hard:
a. Take action on God's Word
Sometimes, it can be hard to have faith and maintain it when life is difficult. Instead of letting our circumstances overwhelm us, the Bible encourages us to respond in faith and obedience. When challenges come our way, one of the most effective responses is to take action on God's Word.
The Bible has many promises written for our protection and guidance. They are a great source of strength and hope when times get tough.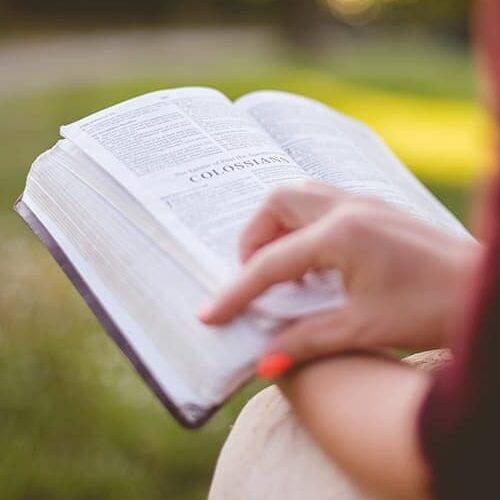 Examples of such promises include:
"The Lord will fight for you; you need only be still" (Exodus 14:14).
"Do not be anxious about anything, but in every situation, by prayer and petition, with thanksgiving, present your requests to God" (Philippians 4:6).
"He who did not spare his own Son but gave him up for us all, how will he not also along with him graciously give us all things?" (Romans 8:32).
We can turn to these promises throughout any situation we face in life – when we're afraid, lonely, or discouraged – and find comfort in knowing that He will provide for us in all circumstances.
Taking action on these truths can help build more trust and confidence that God truly does have our best interests at heart.
As we study His Word and let it root itself deep down into our hearts, we're reminded that He is with us through every challenge – no matter how big or small they may seem – so keep believing!
b. Practice gratitude
When life is difficult, it can be hard to have true faith. However, although it seems like there is something in our way that stops us from trusting in God, practice gratitude.
Try to focus on the good things in your life and find things to be thankful for. This doesn't mean that bad things are suddenly going away or fixing themselves, but it shifts our focus to things we can be thankful for instead of always being stuck on negativity.
Practicing gratitude opens the door of trust to God and shows Him that we are willing to give thanks even when the situation may not call for it.
Gratitude allows us to genuinely accept how much God has already done for us even before asking Him for help with something else – showing Him that we trust in His abilities and have faith He will do what's best for us even if it isn't what we truly desire or expect.
c. Spend time in nature
Nature can be a beautiful reminder of the presence and power of God. When life is hard and you're facing difficult situations, taking time to spend in the beauty of nature can help us reconnect with our true source of hope.
From a walk in the woods to watching an ocean tide come and go, to admiring the wonderful and beautiful works of God, to admiring fields of wildflowers, I'm able to reconnect to God, with His unfailing love for me, through the beauty of His creation.
When facing hardships or disappointments, it's easy for our faith to be shaky or even wavering, but the truth is, nature has a way of showing us that even when life is hard, there is still beauty and love in everything around us.
Sitting by a stream in prayer or meditating on a mountaintop may seem intimidating, but it can be extremely rewarding for our souls. Simply taking moments throughout your day to step outside and marvel at what God has created might just give you the clarity needed to move forward in hope, no matter how bad things may seem at the moment.
So Beloved, next time your faith is tested throw on some jeans and sneakers and take yourself on an adventure into nature. As you do this, pray and meditate on the promises of God!
5. Finding Joy in Difficult Times
Life can be filled with trials and tribulations. From going through financial struggles to losing a loved one, it can be hard to find any joy during difficult times. But, it is possible to find relief and peace, even in the most trying of moments. In this section, we will look at ways to find joy and faith during hard times.
a. Celebrate the small victories
When life is hard, it can be difficult to find joy in everyday activities and events. Struggling with a job loss or illness can be devastating, and it can be hard to find a source of peace.
One of the best ways to combat these feelings is to look for and celebrate small victories.
While life may have thrown major roadblocks in our way, focusing on the small aspects of life that we are grateful for can fill our hearts with joy and give us hope for the future.
Recognizing the importance of celebrating small wins means setting aside time in your day to identify what you are thankful for.
Whether it's finding solace in a book or opting to take a walk instead of watching television, discovering simple joys can help you keep perspective and stay motivated throughout challenging times.
You may find that engaging in something creative, like writing, drawing, or playing music can also bring a sense of calmness in moments when you're feeling overwhelmed.
It's important to remember also that having true faith in such times is an important part of finding joy even during difficult times.
If you struggle to see positive results from your efforts, looking towards God reminds us that He is still at work even when we cannot feel His presence.
He has given us an unflinching promise to never leave us nor forsake us.

Hebrews 13:5
Nurturing your relationship with Him through daily prayer and worship helps foster trust despite the struggles and challenges; when you feel connected to God through faith-based pursuits, enduring anything else becomes much more manageable, because no matter how tough life gets; His love never fails (1 Corinthians 13:8).
b. Focus on the positive
It can be hard to find joy when life throws difficult circumstances our way. We may struggle with anxiety, doubts, and fear. But it is important to remember that God is always near and will never leave us even in the darkest of days.
He could be guiding us to look for the silver linings or to trust in Him that everything will work out for our good. When we stay focused on the positive instead of ruminating on the negative, it makes it easier to find moments of joy.
It redirects our focus away from a mind frame of worry and despair and towards faith and hope.
We can practice finding joy by allowing ourselves to take a few moments each day to focus on the blessings we have been given, no matter how small or seemingly insignificant they may be in comparison to what we are going through.
This can include:
Talking with friends or family members about their experiences during similar trials,
Listening to uplifting music
Reading the Bible, inspiring books or poetry,
Indulging in a hobby like tending a garden or singing
Basically, anything that can bring about peace and hope within us so that we can navigate through difficult times with grace.
Additionally, having faith during difficult times gives us strength. It is only when we begin doubting God's goodness that things start feeling overwhelming and mysterious decisions start looming over our heads.
But when viewed through the lens of faith, these decisions start looking clearer, and more beautiful gifts appear from them such as peace of mind, newfound resilience, and inner strength which will help us in times ahead!
c. Look for ways to serve others
When life does not go according to your plans, it can be easy to become consumed with frustration, anger, and disappointment.
However, one of the best ways to remain hopeful during difficult times is by looking for opportunities to serve others. Not only is it a great way to remind yourself of your purpose in life, but you will likely find joy and peace through helping others.
God reminded us to imitate Him when He said:
"…assuredly, I say to you, inasmuch as you did it to one of the least of these My brethren, you did it to Me."

Matthew 25:40 (NKJV)
Kindness and love should lead our actions always, regardless of how great or small the deed may be. Whether it's offering a listening ear or an extra hand with a task at home or work.
The holy grail is to give freely and plentifully in times of darkness so that those around you can feel encouraged by your example.
In order to best serve those around us during difficult times, we must recognize their individual needs without placing our own expectations on them.
That is to say, show people their worth a little bit more today and offer kindness wherever it is needed without expectations in return – simply give out of love.
It may be difficult in moments when hope seems lost but remember that God does not forget us in our trials; He will provide strength and blessings through aiding even the smallest situationally kind gesture when we place our trust in Him.
6. Trusting in God's Plan (faith in God's plan)
It can be hard to have faith in God when life throws us a curveball. We might question why God allowed us to experience hardship, or why certain things happen when we don't understand why. However, it's important to remember that God has a plan for us, and trusting in Him is the best course of action.
In this section, we will explore how to have faith in God, or stay believing in God even when life is hard.
a. Remember that He is in control whilst believing in God
No matter how difficult life seems, we can take comfort in the knowledge that God is in control. He has already established every detail of our lives and even when things look bleak, we can trust in His plan for us.
Though it may not make sense to our limited human understanding, Hebrews 11:1 reminds us that:
"…faith is the substance of things hoped for, the evidence of things not seen."
Whenever you are struggling to have faith in God's plan for you and your future, remember that He will never leave you or abandon you.
I know, and I know:
"…that all things work together for good to those who love God, to those who are called according to His purpose.

Romans 8:28 (NKJV)
At times, it may be a long journey to fully understand why certain trials come into our lives, but if we keep our hope alive and remain faithful until the end, then we will come out stronger than ever before ( James 1:2-4).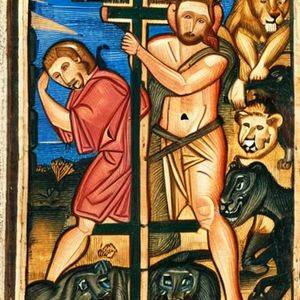 God wants each of us to put ourselves completely into His hands. Through prayer and meditation on scripture, we open ourselves up to Him allowing Him access to our hearts so that we can trust more deeply in His plan for us.
Take some time today to relax your mind and focus on what God wants for your future, no matter how uncertain it might feel today.
Beloved, hold onto His promises and allow Him to work on your behalf as He only knows best.
b. Let go of expectations and have faith in God
One of the most difficult pieces of trusting in God's plan is letting go of our expectations. We all have expectations in life. Truth be told, some are foolish and unrealistic, while some are healthy and appropriate.
I know it can be hard to let go of certain expectations, especially when they have been a long-standing part of our lives.
At times we ask ourselves:
How often do we expect that if we live righteously, things will always turn out fine?
That if we serve God faithfully, He will bless us abundantly?
The truth is that sometimes bad things happen to good people. As human beings, it can be tough to accept this reality and learn to trust that there will still ultimately be good.
We need to remember that God has a bigger perspective than we do, and His ways are higher than ours. This is reinforced by Isaiah:
"For as the heavens are higher than the earth,
So are My ways higher than your ways,
And My thoughts than your thoughts.

Isaiah 55:9 (NKJV)
I take solace from Jeremiah, where I learn that we may never understand why certain things happen in life the way they do, but we can take comfort in knowing that He has good plans for each one of us.
For I know the thoughts that I think toward you, says the Lord, thoughts of peace and not of evil, to give you a future and a hope.

Jeremiah 29:11 (NKJV)
When everything seems uncertain and unexpected, clinging to faith in Him is crucial. Often times when we let go of our expectations on how things should turn out, it opens us up for His plans being made available for us, plans which are far grander than what anything else could offer us!
"Hardships often prepare ordinary people for an extraordinary destiny."

Clive Staples Lewis
To completely trust in God's plan means understanding that while life may not always turn out the way you hope or expect; He is still sovereign and the ultimate purpose is eternally meaningful and fulfilling.
c. Trust that by believing in God, He will work it out
You and I know that when life is hard, it can be difficult to have faith in God's plan for your life. But it is important to remember that He's in control and that He has it all worked out, although when you can't see the answer right now, it becomes really difficult to accept your condition.
When things don't seem to be going your way, take some time to reflect on God's Word and the promises He has made in His Word, the Bible.
I encourage you to read stories from the Bible about how God was faithful in difficult times and how He never failed His people, even though they didn't always understand His plans.
Remind yourself of who God is and of His power over all things: "Whatever the Lord pleases He does, In heaven and in the earth, In the seas and in all deep places." (Psalm 135:6).
Reach out to people around you who love God and can encourage you to trust Him even when you don't understand why things are happening.
Pray together with them that God would give you strength, peace, and clarity during this tough season.
Keep asking Him for guidance as you put your faith into action by making small steps forward each day in the direction of trusting Him more fully no matter what the outcome may be.
And especially remember that just as He was with Joshua, so is He with you!
Have I not commanded you? Be strong and of good courage; do not be afraid, nor be dismayed, for the Lord your God is with you wherever you go."

Joshua 1:9 (NKJV)
Frequently asked questions
How do you get faith in God?
Faith in God is a gift from God. According to Ephesians 2:8-9, "For by grace you have been saved through faith. And this is not your own doing; it is the gift of God, not a result of works, so that no one may boast."
However, while faith is a gift from God, there are things that we can do to cultivate and grow our faith.
Here are a few suggestions:
1. Read the Bible: The Bible is a source of truth and guidance, and it contains many stories and passages that can help us to understand and strengthen our faith.
2. Pray: Prayer is a way to communicate with God and to seek his presence and guidance in our lives. It can be a powerful way to grow our faith.
3. Worship: Worship is a way to honor and praise God, and it can help us to focus our hearts and minds on him.
4. Serve others: Serving others is a way to put our faith into action, and it can help us to grow in our relationship with God.
5. Surround yourself with other believers: Being part of a community of believers can provide support, encouragement, and accountability, which can all help to grow our faith.
What is strong faith in God?
Strong faith in God is characterized by a deep trust in him and a reliance on him in all circumstances. It is not easily shaken or deterred, but rather it remains steadfast and unwavering, even in the face of trials or challenges.
A person with a strong faith in God is not necessarily free from doubt or fear, but they are able to hold onto their belief in God despite these feelings. They are able to put their trust in God and his plan for their lives, even when they do not fully understand what is happening or why.
Strong faith in God also involves actively seeking a closer relationship with him through prayer, reading the Bible, and participating in worship and other spiritual practices. It involves actively living out one's faith by following God's commands and seeking to glorify him in all that one does.
Ultimately, strong faith in God is a journey, and it requires effort and intentionality to cultivate and grow. But with God's help, it is possible to develop a deep and enduring faith that will sustain us through whatever life may bring.
What does the Bible say about faith in God?
The Bible has much to say about faith in God. According to Hebrews 11:1, "Faith is the assurance of things hoped for, the conviction of things not seen."
In other words, faith is the belief in things that we cannot see or fully understand, but that we believe to be true. The Bible teaches that faith in God is essential for salvation and for having the right relationship with him.
It also teaches that faith in God should be active and demonstrated through our words and actions.
Throughout the Bible, we see many examples of people who had a strong faith in God and who trusted in him, even in the face of great challenges or difficult circumstances.
The Bible also encourages us to seek to grow in our faith and to trust in God's goodness and faithfulness.
What is the power of faith in God?
Faith in God has the power to transform lives and bring hope, comfort, and peace. It can give us strength and courage to face difficult challenges and persevere through difficult times.
Faith in God can also bring about physical healing and restoration, as we see in many accounts throughout the Bible.
In addition, faith in God can bring about a sense of purpose and meaning in life. It can help us to see beyond our current circumstances and to trust in God's plan for our lives.
Perhaps most importantly, faith in God gives us a relationship with him. It allows us to draw near to him and to experience his love and presence in our lives. This relationship with God can bring about profound joy and fulfillment, and it can give us hope for the future.
See, the power of faith in God is immeasurable, and it has the ability to transform and enrich our lives in countless ways.
Takeaways in having faith in God or believing in God always
No matter what life throws your way, it is possible to maintain faith in God. No matter what you are going through in life, know that you are not alone. Many people have gone through – and are going through – tough times. You can find comfort and hope in God.
Stay in there Beloved of God!