Do you feel that prayer can be a powerful force in your life? Have you ever wondered if there are tangible benefits of prayer that come from praying?
In this work, we'll explore the various ways in which prayer can positively impact your life and help you discover greater peace and purpose, more importantly, the benefits of prayer.
So don't worry, we'll cover all the basics as we delve into the benefits of prayer. Mind you, we won't be doing the 7 benefits of prayer, 10 benefits of prayer, or 20 benefits of prayer.
What is Prayer?
Prayer is the practice of talking to God. To me, it's a solemn communication between me and my God.

I describe it as solemn communication because, during prayer, I pause to listen to God.
This type of communication brings about understanding, connection, and a sense of peace to me.
Prayer can take many forms, from quiet meditation to formalized public prayer meetings. However it is practiced, prayer has long been seen as a powerful way to uplift the spirit and bring solace in times of despair.
Why is prayer beneficial?
The benefits of prayer are widely recognized in the lives of those who indulge in it, and at istandinthegap.com, we very much cherish its effectiveness.
In the Bible, there are several accounts of people communicating with God through prayer and receiving blessings in return.
The Apostle James wrote: "
The effectual fervent prayer of a righteous man availeth much.

James 5:16b (NKJV)
The meaning?
Fervent prayer can help us find direction in our lives and strengthen relationships amongst ourselves.
We can also learn how to be more compassionate towards those around us, who may be struggling with life's hardest issues which can have a positive ripple effect on their community or environment.
Prayer also encourages honesty with oneself as we are able to look inward for insight into our deepest values, beliefs, and emotions without judgment or fear.
Prayer helps believers develop emotional maturity by providing an outlet for meaningful reflection on important matters that require solemn contemplation, so that they can make sound decisions based on these reflections alone, instead of succumbing to external opinions, pressures, or influences.
It even provides an opportunity for our inner turmoil to offer space for genuine self-discovery when difficult emotions arise without having to silence them first, before progressing forward in life.
Prayer helps us to courageously engage with whatever situation we face, which needs significant introspection either rationally or emotionally, while simultaneously empowered by the thought that "God is on your side" regardless.
Though some (unbelievers) might view prayers as mere words uttered to an unknown and non-existent being, the fervent prayer of the believer's conversational prayer when done correctly, helps any believer stay connected to God.
This helps to reaffirm one's beliefs in the authenticity of prayer and the relevance of God in our lives.
What are the benefits of prayer according to the Bible?
1. Prayer helps us build a relationship with God
Praying to God is essential for a Christian because it helps us to build a strong and meaningful relationship with Him.
The Bible states;
16 Rejoice evermore. 17 Pray without ceasing. 18 In everything give thanks: for this is the will of God in Christ Jesus concerning you.

1 Thessalonians 5:16-18 (NKJV)
Praying regularly is important because it keeps us grounded in our faith, and reminds us who God is, and what He has done for us.
Having a relationship with God means having an intimate connection with Him. It's about trusting in His love and being open to His will for your life. It involves spending time listening to Him speaking to you through scripture, prayer, and experiences from your daily life.
Building this relationship helps us stay focused on making wise decisions as we go through life.
To build a strong relationship with God here are some tips that can help:
Read Bible scripture often – investing your time into finding out what the Bible says about building a relationship, a personal one, with the Lord can be very eye-opening & reassuring of His desire to have such an enchanted friendship with you.
Pray without ceasing – speaking, praising, thanking & listening offers spiritual clarity & understanding as openly sharing your heart spiritually draws you closer to the One who loves hearing each one of your thoughts & feelings!
Spend time alone fellowshipping – giving undivided time to communicate honestly with Him will give room for familiarizing. This is perfectly described as part of what's needed throughout this fond journey of warm loving support between you & Him!
Practice Faith-filled Sincerity – integrating deeply placed trust within yourself begins positively by acting upon intentions sealed by love while spreading his grace joyfully, no matter the odds against you!
Through reading, bible studies, and practicing these tips on how we relate with God, we show honor to Him which will bring great blessings into our lives.
Additionally looking up bible verses that focus on developing relationships within the spiritual realm such as:
"Ask, and it shall be given you; seek, and ye shall find; knock, and it shall be opened unto you!"

Matthew 7:7 (NKJV)
. ..makes all the difference.
2. Prayer is a way to help others
When Jesus walked the earth, he taught those who followed him many lessons, including being charitable and generous.
In fact, acts of kindness are even a part of the spiritual quest:
The effectual fervent prayer of a righteous man availeth much.

James 5:16b (NKJV)
Prayer is one of the most powerful weapons we have, that can be used to help others with their struggles. Creating awareness of our brothers and sisters in need, through prayer allows us to lift up those around us who can benefit from our prayers and support.
Through prayer, God will help steer our paths in His direction by giving us boldness over any challenge that lies ahead.
Prayer is one way we are able to reciprocate the love God has for each of us.
It's not just about praying for our own needs; we should also pray for others in need as well.
Praying for others will create selflessness that:
Extends beyond wanting something from God alone, and
Promote an awareness that, there are other people with real needs worthy of His attention too.
Some helpful tips on how to pray for others
Write down their names or requests on paper, or use specific bible verses regarding helping those in need such as:
And the King will answer and say to them, 'Assuredly, I say to you, inasmuch as you did it to one of the least of these My brethren, you did it to Me.

Matthew 25:40 (NKJV)
See, taking time out of your day to pray specifically for someone else, allows you to take your focus off yourself.
This shows how greatly blessed you truly are by allowing you to reach out beyond yourself into acknowledging what may be going on outside your sphere of influence, that may desperately need divine intervention.
Recommended prayer apparel – ships to the USA only:
3. Prayer helps calm us
One of the many benefits of prayer is that it can help us to be in control of our emotions and deal with any form of stress or anxiety.
As Christians, we have access to a power source in God, that doesn't only offer reassurance and guidance, but also provides us with a sense of calming peace.
In his letter to the Church at Philippi, Paul encourages the believers to not be anxious about anything but rather bring their needs before God.
6 Be anxious for nothing, but in everything by prayer and supplication, with thanksgiving, let your requests be made known to God; 7 and the peace of God, which surpasses all understanding, will guard your hearts and minds through Christ Jesus.

Philippians 4: 6-7 (NKJV)
Praying is one way for the believer, overwhelmed by the difficulties in life, to use stay calm. To feel any sense of calmness and peace, it's important for believers to spend time speaking and focusing on Him: praying does exactly this.
Prayer gives Christians an opportunity to pause and thank God for all He has done; properly voicing our appreciation helps simplify worries as we become aware that He is looking after us.
Recommended Christian merchandise – ships worldwide:
In 1 Corinthians, Paul verbalizes how every temptation can be managed as long as faith stands firm through His power; prayer thus enables us as humans to move away from temptations that could lead to chaos within our minds and spirits.
No temptation has overtaken you except such as is common to man; but God is faithful, who will not allow you to be tempted beyond what you are able, but with the temptation will also make the way of escape, that you may be able to bear it.

1 Corinthians 10:13 (NKJV)
When faced with mental health issues
Believers should learn how mental health relief can take place satisfactorily by starting with prayer, backed by professional mental health practitioners, accompanied by a community of believers who understand that in such circumstances, both should work for healing to take place.
24 And let us consider one another in order to stir up love and good works, 25 not forsaking the assembling of ourselves together, as is the manner of some, but exhorting one another, and so much the more as you see the Day approaching.

Heb 10:24-25 (NKJV)
Aside from the above, there are several ways Christians can pray for help when under pressure, using Bible verses found within the Bible;
Watch and pray, lest you enter into temptation. The spirit indeed is willing, but the flesh is weak.

Matthew 26:41
Packing prayer into moments like taking a walk or when brushing your teeth, talking selfishly i.e without feeling guilty or
Writing multiple lists and selecting one each time before you sleep, and praying is very helpful.
When there are too many distractions involving emotions, asking God to take them away should serve adequate clarity between mind, body, and soul.
4. Prayer ushers us into the presence of God
The book of Hebrews reminds us that:
15 For we do not have a High Priest who cannot sympathize with our weaknesses, but was in all points tempted as we are, yet without sin. 16 Let us therefore come boldly to the throne of grace, that we may obtain mercy and find grace to help in time of need.

Hebrews 4:15-16
This reference gives us greater insight into prayer, that it's the ultimate form of communication that ushers us into the presence of God.
When we pray, especially in our time alone with God, we are entering into His presence. It is a special moment to be alive as we open up ourselves to fellowship with Him in an intimate and personal way.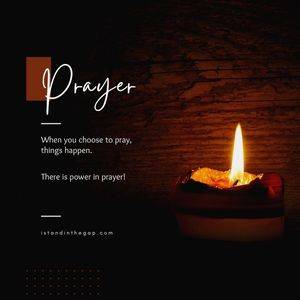 In doing so, we become more aware and conscious of our relationship with Him and the impact it can have on other aspects of our life.
The importance of being in the presence of God through prayer should not be underestimated.
We experience an overflow of His love when we open our hearts to Him – an aspect that brings forth several benefits into our lives such as peace, contentment, joy, guidance, and most importantly, transformation as a result of listening to His voice.
When by faith you choose prayer for your situation or circumstance, Jesus is leading you ever closer to Himself which can bring comfort in knowing He will always be present in your life.
You may find yourself asking how do I enter this sweet place?
It can start simply by talking out loud or mentally repeating verses from Scripture such as:
Draw near to me and I will draw near to you

James 4:8
or
Rest in the Lord, and wait patiently for Him;
Do not fret because of him who prospers in his way,
Because of the man who brings wicked schemes to pass.

Psalm 37:7
As you continue seeking Him every day through prayerful study of Scripture, and also spending time listening at Jesus' feet, it'll help create a conducive environment where communion together will naturally foster positive transformation in your life!
5. Prayer brings us closer to God
Today, many of us wonder why praying and getting close to God is important. We have so much to worry about such as doing the school rounds, attending school or college, taking care of our families, and dealing with personal problems.
This means, taking the time to connect with God can be difficult when we are immersed in a plethora of daily life struggles. Nevertheless, it is important to make prayer a priority in our everyday life.
We read that:
The Lord is near to all who call upon Him,
To all who call upon Him in truth.

Psalm 145:18
This verse explains that when we pray and come close to God he draws near to us. His closeness doesn't happen automatically as we need to develop an intentional relationship that involves communication at its core.
With this type of relationship, we understand His ways and will of doing things better as he reveals them bit by bit during spiritual conversations with Him through prayer.
To build an intentional connection, we should keep in mind several tips that should help us get closer to God:
Prayerfully seek Him throughout the entire day (not only at specific times) by;
Going to Him with an open attitude;
And listening actively afterward;
Thanking Him for everything, including your accepting Christ into your life;
Trusting that your prayers have been heard.
To show us how important being closer to Him really is He has given us some examples found throughout the Bible that emphasize our duty of genuine devotion toward Him:
Draw near to God and He will draw near to you. Cleanse your hands, you sinners; and purify your hearts, you double-minded.

James 4:8
Seek the Lord while He may be found,
Call upon Him while He is near.

Isaiah 55:6
6 Be anxious for nothing, but in everything by prayer and supplication, with thanksgiving, let your requests be made known to God; 7 and the peace of God, which surpasses all understanding, will guard your hearts and minds through Christ Jesus.

Philippians 4: 6-7
All these scriptures provide a gentle yet firm reminder that coming closer spiritually does bring blessings into our lives through communicating from one mortal heart to that of the supreme being, God.
6. Prayer Helps Us Understand God's Will
When we pray, we enter into a conversation with God. As we seek to understand what He wants for us and our world, prayer helps us become more closely united with Him and listen for His will.
Proverbs 3:5 urges us to "trust in the Lord with all your heart, and do not lean on your own understanding." This Bible verse serves as a reminder that our knowledge is limited and God's wisdom is superior. To fully understand His will, we must look beyond secular knowledge and have an open mind while seeking spiritual insight through prayer.
Asking God to reveal His will during prayer can be done in different ways depending on each individual's style of communication. Some tips for praying to understand God's will include:
Before beginning to pray, take time to clear your mind of worldly concerns as well as any preconceived notions about what you want the answer to be;
In order for your spirit to be open enough to fully hear from God you must start by being still in his presence;
Spend time meditating on relevant Bible verses or themes;
Apply passages like James 1:5 which says "If any of you lack wisdom, let him ask of God" when asking Jesus for guidance; and
When considering a course of action, pray with an expectation that the answer you receive from Jesus should bring glory and honor Him first (Romans 11:36)
When praying for insight into understanding God's will, a few bible verses jump into mind:
The humble He guides in justice,
And the humble He teaches His way.

Psalm 25:9
But seek first the kingdom of God and His righteousness, and all these things shall be added to you.

Matthew 6:33
14 Now this is the confidence that we have in Him, that if we ask anything according to His will, He hears us. 15 And if we know that He hears us, whatever we ask, we know that we have the petitions that we have asked of Him.

1 John 5:14-15
If He called them gods, to whom the word of God came (and the Scripture cannot be broken),

John 10:35
Do not be wise in your own eyes;
Fear the Lord and depart from evil.

Proverbs 3:7
Moreover, it is required in stewards that one be found faithful.

1 Corinthians 4:2
Your kingdom come.
Your will be done
On earth as it is in heaven.

Matthew 6:10
All these verses highlight moments when wisdom comes from God's heart when called upon.
It also reinforces why often trusting and obeying His instructions contrasts with the voice of reason.
This also reassures us that, not one word of Gop has failed, so we should abide confidently by it!
Utilizing prayer as a tool help fully illustrate God's wants, versus those of men.
We are also able to decode scripture and reference both promises of peace even amidst complex situations. So when confusion abates and unfolding plans take form, this elucidates our paths and motivates our obedience by fulfilling life's purposeful substance or meaning.
7. Prayer changes our focus
Prayer is a direct line of communication with God. It keeps Christians centered and focused on God's will.
When believers follow prayerful practices, they see the benefits in their life; the impact it can have is tremendous.
Christians who practice prayer and remain focused on God's plans reap numerous advantages, such as:
First and foremost, prayer helps us enter into a deeper relationship with our Lord and Savior, Jesus Christ.
Praying regularly helps us maintain focus on what is really most important in life – God's will for us.
…set your minds on things above, not on earthly things.

Colossians 3:2
By staying focused on heavenly things, we enable our thoughts to stay directed toward Him throughout the day, allowing for better communication between our souls and His spirit.
Regular prayer also grants believers discretion with regard to who they should trust or what paths they should embark upon.
We are reminded of spiritual discernment which states;
Therefore, if anyone is in Christ, the new creation has come: The old has gone, the new is here!

(2 Corinthians 5:17
This implies that when we seek quality advice or need help making decisions, especially in difficult times, we should turn back to our relationship with Him for guidance.
Tips to staying focused in prayer
There are many tips that can help the Christian stay connected with God continuously:
Reading His Word (the Bible),
Quieting your heart for meditation purposes daily by setting aside just 10 minutes throughout the day before attending to other tasks allowing you to take time out from all worldly disturbances just praying silently, without words, but connected through feelings like love and faith adoration. This would give you a much better platform next time you pray as your soul will be echoing with His divine presence.
Lastly, being consistent in prayers establishes confidence within yourself as it allows more breathing room from distractions from sinful activities helping you draw closer to God whenever challenges come your way (Psalms 46:10).
8. Prayer brings about change
As Christians, we are not just praying for ourselves when it comes to changing ourselves into better versions of ourselves. We are praying for God's hand to help us in the direction of holiness and righteousness.
In order to do this, we must take a step in faith and devote our prayers to times when we know a change needs to be made and pray with every breath in our bodies that God will make that change within us.
When does a Christian need to pray for change?
In the Bible, we read that, "I will give you a new heart and put a new spirit within you; I will take the heart of stone out of your flesh and give you a heart of flesh."

Ezekiel 36:26
This verse serves as an example to remind us that prayer brings about change within us. When we think about bringing about changes in our lives, it is crucial for us as Christians to understand how vital it is for us to pattern ourselves after Jesus Christ by making sure that all aspects of our lives reflect Him as much as possible – so when seeking change, start with prayer.
When praying for change, there are several tips for success:
Make sure your prayers focus on Jesus Christ and glorify Him by recognizing His power;
Allow yourself time alone with God;
Focus on how this change will benefit the Kingdom rather than from selfish desires;
Reflect frequently on what changes have been made due to your prayers so far;
Trust in God's plans even if they don't line up with your own plans because ultimately what He desires is best;
Keep track of Bible verses that help during moments of doubt or out-of-control feelings;
Remember why we chose this journey – because only through prayer can true internal change begin!
Praying has always been an integral part of the Christian faith. It is through His promises that we have such passages as:
6 Be anxious for nothing, but in everything by prayer and supplication, with thanksgiving, let your requests be made known to God; 7 and the peace of God, which surpasses all understanding, will guard your hearts and minds through Christ Jesus.

Philippians 4:6-7
Conclusion
In conclusion, I would say prayer offers many physical, emotional, spiritual, and mental benefits to those who make it a part of their daily practice. To reap the full rewards of prayer thereof, consistency is necessary. It is wise to set aside a particular time each day for praying so that it can become an ingrained habit.
We also know that prayer has been around for centuries and continues to be an essential component of Christian-based life today. It can bring us closer to one another and provide us with inner peace and strength in times of need.
By cultivating an attitude of gratitude through prayer, we are better able to recognize the good in the world around us and appreciate all that we have. With patience and dedication to this holy practice, we can all find great comfort by faithfully cultivating our own unique connection with God through prayer, which to me is the same as the scientific benefits of prayer.
Be blessed!