Today's devotional, themed "Dedication to God, embodies the very essence of what it means to commit our lives and loved ones to the work of God.
The word "dedication," I believe, is a word steeped in purpose and devotion, and it carries profound meaning in the realm of faith. Beloved, to be dedicated to God is to surrender our hearts and lives wholly to His divine plan.
Have you already done that or are you prepared to do that?
---
---
Key Takeaways from Dedication to God
Dedication to God inspires us to consecrate our lives and loved ones to the divine purpose of God.
Anchor Bible Verse of the Day on Dedication to God
But Hannah did not go up, for she said to her husband, 'Not until the child is weaned; then I will take him, that he may appear before the Lord and remain there forever.'

1 Samuel 1:22 (NKJV)
This verse revolves around how Hannah made a vow to dedicate her son, Samuel, to the Lord's service from his infancy.
It shows the essence of dedicating something precious to the service of God. Hannah's act of consecration is a model for us, reminding us that the act of dedication is a deeply spiritual gesture of surrender, gratitude, and faith.
Key Explanations
That he may appear before the Lord and remain there forever: This signifies the act of consecrating someone to a life of service in the presence of God.
---
---
Reflection on Dedication to God
In dedicating Samuel to God, I believe the mother did something unthinkable. How can a barren woman, who was mocked by her rival, dedicate her only son to God?
Well, Hannah's act of consecrating Samuel is a powerful reminder that we, too, can dedicate our lives, loved ones, and everything we cherish to God's service.
Just as Samuel was set apart for a divine purpose, we can choose to consecrate our lives and talents for the service of God and His kingdom.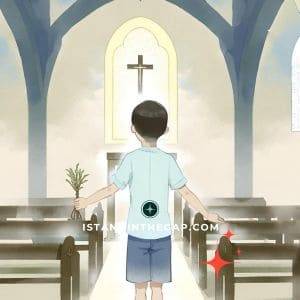 Hannah's profound act of dedicating her long-awaited child, Samuel, to God's service speaks volumes about the depth of her faith. Her promise to give him up to the Lord shows us the beauty of complete surrender.
Mark 12:30 tells us:
And you shall love the Lord your God with all your heart, with all your soul, with all your mind, and with all your strength.
This verse teaches us that dedicating ourselves to God is an act of profound love and devotion. It is a recognition that our lives are not our own but belong to the One who created us.
Today, let us reflect on what we hold dear and whether we are willing to offer it to the Lord's service.
What Romans 12:1 is so true:
I beseech you therefore, brethren, by the mercies of God, that you present your bodies a living sacrifice, holy, acceptable to God, which is your reasonable service.
This verse underscores the idea of presenting ourselves as living sacrifices, dedicating our lives to God as an act of worship.
---
---
Call to Action
Today, consider what you can dedicate to God. It may be your time, your talents, or even a heartfelt commitment to live a life in service to His kingdom.
Dedication is an act of love and surrender, and it invites you to draw closer to the divine purpose.
Prayer Points for Today
Heartfelt Dedication: Pray for the strength and willingness to dedicate your life, loved ones, and talents to God.
Guidance in Service: Seek God's guidance on how you can serve His kingdom through your dedication.
Renewed Love and Surrender: Ask for renewed love and surrender in dedicating your life to God's purpose.
Let's Pray
Our Father, we come before you with hearts open to dedication. Help us, like Hannah, to offer our lives, our loved ones, and our talents to your divine purpose. May our dedication be an act of love and surrender, drawing us closer to your will.
In the precious and mighty name of Jesus, we pray. Amen.
---
My prayer for you today: I pray that the Lord God will today, cause his power to lead you to do something special for His work.
Blessings!