Welcome to today's devotional, "Strong Family Bonds". Family is a precious gift from God, a source of love, support, and enduring bonds.
Today, it's a reminder of the deep connections that exist within families and among kindred spirits.
Although some family members may have caused you heartache and sleepless nights, but we will all agree that most kin and kith are a blessing to behold.
Key Takeaway from Strong Family Bonds
Strong Family Bonds: An encouragement to treasure and nurture our family-like relationships with others, and learn the value of love, commitment, and selflessness in building lasting family relationships.
Anchor Bible Verse of the Day on Strong Family Relationships
But Ruth said: 'Entreat me not to leave you, or to turn back from following after you; for wherever you go, I will go; and wherever you lodge, I will lodge; your people shall be my people, and your God, my God.'"

Ruth 1:16 (NKJV)
Here, we read about a heartfelt declaration of loyalty and love from Ruth to Naomi, which exemplifies her unwavering commitment to her mother-in-law.
This is a testament to the strength of their family-like bond. She expresses her deep love and loyalty, making it clear that their connection goes beyond mere kinship.
Key Explanations:
Wherever you go, I will go: Ruth's determination to stay by Naomi's side through life's journey.
Your God, my God: Ruth's decision to share not only in family but also in faith, adopting the beliefs of Naomi.
Reflection on "Strong Family Bonds"
The story of Ruth and Naomi portrays the strength of strong family bonds, and specifically in Ruth, we find a beautiful illustration of selflessness, loyalty, and love within a family.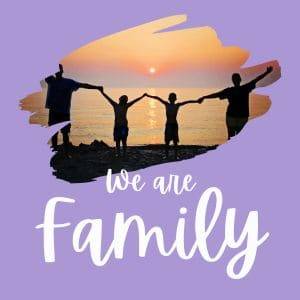 ---
Let's get it clear that the bonds between family members, aren't confined to blood relations alone, for in Christ, we discover a greater family, a spiritual family, where the bonds of love and faith are just as strong.
We read at Ephesians 2:19
Now, therefore, you are no longer strangers and foreigners, but fellow citizens with the saints and members of the household of God."
This verse reminds us that in Christ, we become part of God's family, united by faith and love.
Back to Ruth and Naomi, we are reminded of the powerful family-like bonds that can exist between people, even when not connected by blood.
In our lives, we often encounter individuals who become like family to us. Whether they are friends, mentors, or colleagues, these bonds are precious and offer us support, love, and companionship.
Today, let's cherish these connections, work towards sustaining them, pray and thank the Lord that we have families in whom we can trust – for they become a part of our lives in a profound way.
Call to Action
Today, take a moment to reflect on your family bonds, biological, friendship, and spiritual. How can you strengthen these bonds? Commit to demonstrating love, loyalty, and support within your family and spiritual community. Nurture these relationships and cherish the family bonds you've created.
Prayer Points for Today:
Family Unity: Pray for unity and love within your family.
Spiritual Family: Thank God for the spiritual family you are a part of through faith in Christ.
New Connections: Ask for opportunities to form deep bonds with others, just as Ruth and Naomi did.
Let's pray
Our Father, we thank You for the gift of family. Help us to cultivate strong bonds based on love, loyalty, and commitment, both in our biological families and in our spiritual family through faith in Your Son, Jesus Christ. Guide us in our efforts to strengthen these precious connections.
In Jesus' precious and mighty name, we pray. Amen.
---
My prayer for you today: May the Lord almighty bring back any cherished family relationship you have lost, and may He cause a deep relationship between you and your family.
---