You may not have, but I have been imagining standing at the threshold of the throne room of Heaven and beholding the majesty and Glory of the One who sits on the throne. This was after I took my time to go through the book of Revelation.
Today, let's delve into the throne room of heaven to explore this extraordinary glimpse into the divine realm, and what it has for us as believers.
---
---
Key Takeaway from Throne Room of Heaven:
This devotional invites us to contemplate the heavenly reality and the privilege of approaching God's throne in prayer and worship, and the awe-inspiring presence of God in the heavenly throne room and to draw strength and courage from it in our earthly journey.
Anchor Bible Verse of the Day
After these things I looked, and behold, a door standing open in heaven. And the first voice which I heard was like a trumpet speaking with me, saying, 'Come up here, and I will show you things which must take place after this.

Revelation 4:1 (NKJV)
Revelation 4:1 reveals an incredible scene as John is invited to behold the heavenly realm. He sees a door standing open in heaven and hears a voice like a trumpet, urging him to come up and witness future events.
This verse marks the beginning of John's prophetic journey into the future.
Key Explanations:
A door standing open in heaven: This signifies divine access to heavenly realms.
A voice like a trumpet: It symbolizes the authoritative call of God.
Come up here: It's an invitation to witness and participate in God's divine purposes.
Reflection on the Throne Room of Heaven
The throne room of heaven described in Revelation 4 is a place of indescribable beauty and majesty. It's a realm where heavenly beings worship the Creator continually. This vision offers us a glimpse of the heavenly reality that awaits believers.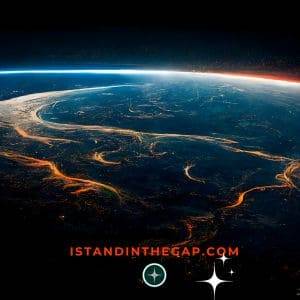 In Revelation 5:12, we catch a glimpse of the worship in the heavenly throne room:
Saying with a loud voice: 'Worthy is the Lamb who was slain to receive power and riches and wisdom, and strength and honor and glory and blessing!
In Isaiah 6:1-3, we also read:
In the year that King Uzziah died, I saw the Lord sitting on a throne, high and lifted up, and the train of His robe filled the temple. 2 Above it stood seraphim; each one had six wings: with two he covered his face, with two he covered his feet, and with two he flew. 3 And one cried to another and said:

"Holy, holy, holy is the Lord of hosts;
The whole earth is full of His glory!"
This vision of Isaiah underscores the holiness and glory of God, a theme reflected in John's vision as well.
Today, as we reflect on the throne room of heaven, we are reminded that our prayers and worship on earth are connected to the heavenly worship. Our voices join the celestial choir in exalting the Lamb who was slain.
As we contemplate this awe-inspiring scene, several insights emerge:
Divine Invitation: Just as John received an invitation to enter the heavenly realm, we, too, are invited into the presence of God through faith in Jesus Christ. It is an invitation to experience His glory, grace, and purposes.
Prophetic Understanding: John's vision points to the unfolding of God's plans and purposes. It reminds us that God is in control of the future, and we can trust His guidance in our lives.
Encouragement and Hope: The heavenly throne room offers us hope and encouragement. No matter the challenges we face, we can draw strength from the knowledge that God reigns supreme.
Today, consider the incredible privilege of approaching the throne of God in prayer. Just as John was invited to the heavenly realms, we are invited to come boldly before the throne of grace (Hebrews 4:16).
Beloved, the worship in heaven doesn't cease, and our worship on earth can be an echo of the heavenly chorus.
---
Call to Action
Take time today to engage in worship and prayer. Join in the heavenly worship as you approach God's throne. Lift your voice in adoration of the Lamb who was slain. Carry the atmosphere of the throne room into your daily life.
Prayer Points for Today:
Divine Access: Pray for a deeper understanding of the privilege of approaching God's throne.
Heavenly Worship: Pray that your worship on earth may resonate with the heavenly worship.
Divine Revelations: Ask God to reveal His purposes and plans for your life.
Let's Pray
Our Father, we are in awe of the glimpse of your heavenly throne room. As we approach your throne in worship and prayer, may our hearts align with the heavenly chorus.
Reveal your divine purposes to us, and may our lives be an expression of your will on earth.
In the precious and mighty name of Jesus, we pray. Amen.
---
My prayer for you today: I pray that you may experience the reality of approaching God's throne in worship and prayer and that your life may be a reflection of His heavenly will on earth.