By the power of prayer, we're referring to the impact our prayer lives have on everything around us. Have you ever asked what the true essence of prayer is, and how it can change your life?
Well, we all know that prayer is the bridge that connects us to God through Jesus Christ. To me, it's a divine channel through which I pour out my hopes, fears, aspirations, and gratitude.
Today, let's be reminded that the act of prayer holds immeasurable power, that is, the power to transform, heal, and bring us closer to God.
Key Takeaways from Power of Prayer
This devotional will explore the importance of prayer and its potential to bring about change in our lives.
Anchor Bible Verse of the Day
And she was in bitterness of soul and prayed to the Lord and wept in anguish.

1 Samuel 1:10 (NKJV)
In 1 Samuel 1:10, we find Hannah, a woman deeply troubled by her inability to conceive, turning to prayer in her distress. Her heartfelt and earnest prayer echoes the emotional turmoil she was experiencing.
This offers us a glimpse into the power of prayer to provide solace, express our deepest emotions, and seek divine intervention during challenging times.
Key Explanations
Bitterness of soul: This conveys the depth of emotional distress and turmoil that Hannah was experiencing.
Wept in anguish: Hannah's prayer was accompanied by tears, displaying the intensity of her emotions.
Reflection on the Power of Prayer
Beloved, there's power in prayer, and in times of uncertainties and distress, just as Hannah did, one of the powerful ways to come out is to turn to God in prayer.
In life, we all face moments of profound sadness, frustration, or difficulty. During such times, prayer is a powerful tool for guidance and intervention.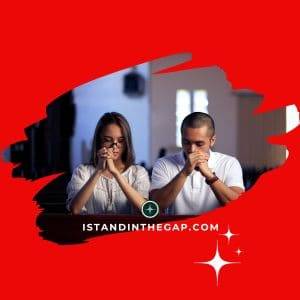 The story of Hannah reminds us that, in our most trying moments, prayer should become a lifeline.
I may not know the weight of sorrow and distress bearing down on you, but I know prayer can uplift your spirit and bring you relief.
Psalm 34:17-18 reminds us that:
The righteous cry out, and the Lord hears, and delivers them out of all their troubles. The Lord is near to those who have a broken heart and saves such as have a contrite spirit.
These verses emphasize that our prayers, especially in moments of distress, reach the ears of a compassionate God who offers comfort and salvation, especially to those whose hearts are broken and have a repentant spirit.
No wonder James 5:16 tells us to:
Confess your trespasses to one another, and pray for one another, that you may be healed. The effective, fervent prayer of a righteous man avails much.
Now, from the above, the power of prayer is made effective, especially when it is sincere and emotional, and highlights the healing power of prayer within a community. Do you have a community within which you pray together?
Bloved, prayer holds the power to heal and transform. It allows us to release the burdens we carry, seek divine guidance, and find peace amid life's storms. Through prayer, we invite God into our lives, creating a relationship that deepens our faith and trust.
Today, I'm encouraging you to embrace prayer as a means of releasing your burdens, finding relief, and seeking divine guidance and intervention.
Call to Action
Today, if you're facing challenges or distress, turn to the power of prayer. Share your emotions, seek comfort, and invite God into your situation. Prayer has the potential to transform your perspective and bring about change.
Prayer Points for Today
Connection with God: Pray for a deeper connection with God through regular prayer.
Emotional Release: Pray for the ability to release your emotions and find relief in prayer.
Divine Guidance: Seek God's guidance and intervention in your current challenges.
Let's Pray
Our Father, we come before you, recognizing the power of prayer. In distress, we seek your comfort, guidance, and intervention. May our prayers be a source of relief and strength, and may we experience the transformative power of communication with You.
In Jesus' mighty and precious name, we pray. Amen.
---
My prayer for you today: That the Lord listens and acts upon whatever prayer of distress you say to Him today.
Blessings!