One of the most beautiful expressions of faith in the Bible is the song of Mary, where she praises God for choosing her to be the mother of Jesus, the Savior of the world.
Today, I want us to be invited to join the chorus of those who have found their voices in praising and magnifying the Lord and rejoicing in his salvation.
What is your song unto the Lord after all that He's done in your life?
---
Key Takeaway to The Song of Mary:
That our praises, no matter how humble, can be a sweet melody in the ears of God. The simplicity of a willing heart magnifies the divine.
Anchor Bible verse of the Day
And Mary said: 'My soul magnifies the Lord, And my spirit has rejoiced in God my Savior. For He has regarded the lowly state of His maidservant; For behold, henceforth all generations will call me blessed.

Luke 1:46-48 (NKJV)
The Song of Mary is a hymn of praise that Mary sang to God when she visited her cousin Elizabeth, who was pregnant with John the Baptist.
Mary expressed her joy and gratitude for being chosen as the mother of the Messiah, the Son of God. She acknowledged God's grace and mercy towards her and all who fear Him.
Key Explanations
My soul magnifies the Lord: Mary's acknowledgment of God's greatness reflects a soul deeply attuned to the divine.
For He has regarded the lowly state of His maidservant: The humility in Mary's heart which means God sees and uplifts the lowly.
Reflection on The Song of Mary
What does it mean to magnify the Lord? How can we, as His children, rejoice in Him and His salvation? Beloved, these are some of the questions that I asked myself, as I meditate on the song of Mary, the mother of Jesus.
As we already know, Mary was a young woman who was chosen by God to bear His Son, the Messiah. She was not rich, powerful, or influential in the world's eyes. She was a humble maiden who trusted in God's promises and obeyed His will. She was also a woman of faith who praised God for His grace and mercy.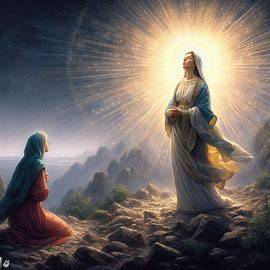 ---
See, Mary's song is not only a personal testimony but also a prophetic declaration. She proclaims that God has done great things for her and His people Israel.
What I see is that Mary's song echoes the themes of many other songs in the Bible, such as Hannah's song (1 Samuel 2:1-10), David's song (2 Samuel 22:1-51), and Isaiah's song (Isaiah 12:1-6).
These songs all praise God for His mighty acts of salvation and justice. They all reflect on God's faithfulness and love for His people.
They all inspire us to join in the chorus of worship and thanksgiving.
The song of Mary is not only relevant for her time but also for our time:
We live in a world that is full of sin, suffering, and injustice.
We face many challenges and difficulties in our lives.
We need God's grace and mercy every day.
We need God's salvation and deliverance from our enemies.
We need God's help and guidance in our journey.
But we also have many reasons to magnify the Lord and rejoice in Him, for:
We have received His Son, Jesus Christ, as our Savior and Lord.
We have been forgiven of our sins and adopted into His family.
We have been filled with His Spirit and empowered to serve Him.
We have been given His Word and His promises to guide us.
We have been blessed with His presence and His peace to comfort us.
We can learn from Mary's example and attitude. She did not focus on her problems or doubts but on God's power and faithfulness. She did not complain or grumble but praised and worshiped. She did not fear or worry but trusted and obeyed. She did not boast or envy, but humbled herself and submitted.
Today, as we reflect on the song of Mary today, let us also sing along with her. Let us magnify the Lord with our words and deeds. Let us rejoice in God our Savior with
---
Prayer Points from the Song of Mary
Praise God for His mercy and grace. Praise God for His mercy and grace in your life, for saving us from your sins, and for blessing you with His favor.
Thank God for His faithfulness and promises. Thank God for His faithfulness and promises to us, for keeping His word, and for fulfilling His plans in our lives.
Ask God to help us humble ourselves and serve Him. Ask God to help you humble yourself and serve Him, to resist pride and arrogance.
Let's pray
Our Father, we thank You for Your goodness and grace. We praise You for Your mighty works and Your holy name. We thank You for sending Your Son Jesus to be our Savior and Lord. Help us to follow His example of humility and obedience. Fill us with Your joy and peace.
In Jesus' precious and mighty name, we pray, Amen.
---
My prayer for you today: I pray that your soul finds its melody in the humble praises you offer to God and that in the simplicity of your worship, you encounter the greatness of the Lord.