Welcome to our daily devotional, "Offering of Thanks." Gratitude, beloved, is a powerful divine practice that touches the very core of our being. When we express our thanks to God and even to those around us, we acknowledge the blessings we've received.
Look at it this way; how do you feel when a fellow human being thanks you for a small favor you've done for him or her?
Today, we dive into the story of Hannah, a woman who offered a heartfelt prayer of thanksgiving that not only blessed her but continues to inspire us today.
Key Takeaways from Offering of Thanks
Being grateful: we are encouraged to cultivate a heart of thankfulness, by embracing gratitude and expressing our thankfulness to God.
---
---
Anchor Bible Verse of the Day
And Hannah prayed and said: "My heart rejoices in the Lord; my horn is exalted in the Lord. I smile at my enemies because I rejoice in Your salvation."

1 Samuel 2:1 (NKJV)
1 Samuel 2:1 is a heartfelt prayer of gratitude offered by Hannah, who was once barren and had earnestly prayed for a child. Her prayer is a beautiful expression of joy and thanksgiving to the Lord for granting her a son, Samuel.
This verse emphasizes the profound sense of joy that comes from recognizing and appreciating God's blessings. It also reflects a heart overflowing with gratitude in the face of her blessings.
Key Explanations
My horn is exalted in the Lord: This phrase signifies the lifting of one's head in victory and joy.
I smile at my enemies: Hannah's expression reflects the triumph of a grateful heart over adversity.
Rejoice in Your salvation: She acknowledges God's saving grace in her life.
Reflection on Offering of Thanks
Many times, we overlook the many blessings that surround us. But just as Hannah did, we can find joy and comfort in offering our thanks to God.
Beloved, gratitude should not be confined to moments of big gains alone, but should shine even brighter in times of hardship, as well as even in small blessings.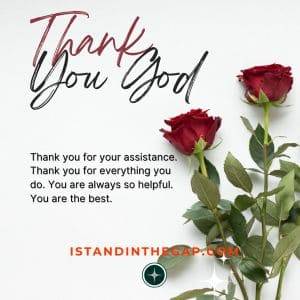 ---
---
Her faith-filled gratitude moved her from a place of desperation to rejoicing. In 1 Samuel 1:10-11, we read about her pain:
And she was in bitterness of soul and prayed to the Lord and wept in anguish. Then she made a vow and said, 'O Lord of hosts, if You will indeed look on the affliction of Your maidservant and remember me, and not forget Your maidservant, but will give Your maidservant a male child, then I will give him to the Lord all the days of his life, and no razor shall come upon his head.'
Hannah's desperate prayer was one of her first offerings to the Lord. She pleaded for a child and vowed to dedicate him to God's service. When God granted her request, she didn't forget her promise.
Psalm 100:4 tells us,
Enter into His gates with thanksgiving, and into His courts with praise. Be thankful to Him and bless His name.
This verse also invites us to enter God's presence with thanksgiving, recognizing that offering thanks is a key to encountering His goodness.
"Offering of Thanks" encourages us to adopt a thankful heart, to find joy in the smallest blessings, and to express our gratitude to God daily. It reminds us that thankfulness has the power to transform our perspective, conquer adversity, and bring us closer to God.
Today, reflect on the blessings in your life:
What are you thankful for?
Who are the people you cherish?
Amid life's complexities, remember to offer your thanks to God for His countless blessings.
Call to Action:
Dedicate a portion of your day to prayer and thanksgiving.
Seek opportunities to express your gratitude to those around you.
Prayer Points for Today
Gratitude: Pray for a heart filled with gratitude.
Contentment: Ask God to help you find contentment in the blessings He provides.
Generosity: Pray for opportunities to share your blessings with others.
Let's Pray
Our Father, we come before you with hearts full of gratitude and joy. We offer our thanks for the blessings in our lives, even in the face of challenges. May our thankfulness be a source of strength, joy, and a closer connection with You. In Your name, we pray. Amen.
---
My prayer for you today: I pray that your heart overflows with gratitude, that you find joy and blessings even in challenging times, and that you share your thankfulness with those around you.