Beloved, every day is a fresh start, and embracing new beginnings is an opportunity to leave behind the old and welcome the new.
Embracing new beginnings, to me, is even more important when you view life as a journey marked by seasons, transitions, ups and downs, and new beginnings.
Today, we delve into the wisdom of Isaiah 43:19, which reminds us of God's promise to make a way in the wilderness and rivers in the desert.
Key Takeaway from Embracing New Beginnings:
An encouragement to have faith in God's promise of new beginnings and to welcome each day as an opportunity to move forward in our spiritual walk.
---
---
Anchor Bible Verse of the Day
Behold, I will do a new thing,
Now it shall spring forth;
Shall you not know it?
I will even make a road in the wilderness
And rivers in the desert.

Isaiah 43:19 (NKJV)
Isaiah 43:19 reminds us that God is the ultimate author of new beginnings. He promises to make a way in the wilderness and rivers in the desert – things that are practically impossible made possible.
This verse carries the assurance that no matter how desolate our circumstances may seem, God has the power to bring forth new life and opportunities.
Key Explanations
New Thing: This signifies a fresh start, a new beginning, and the possibility of transformation.
Road in the Wilderness: God's guidance and direction in seemingly impossible situations.
Rivers in the Desert: Abundant blessings and provision even in times of scarcity.
Reflection on Embracing New Beginnings
Life is a journey filled with various seasons. Some seasons are joyful, while others are marked by challenges and uncertainties. But in every season, we have the promise of God's guidance and renewal.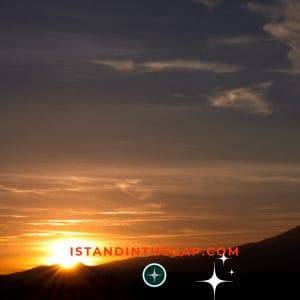 ---
Our anchor verse of the day of Isaiah 43:19 suggests that God specializes in making a way when it seems impossible. He promises that even in the most unlikely circumstances, we can experience a fresh start.
Beloved, have you ever found yourself in a situation that felt like a wilderness? Perhaps you're going through a personal desert, where hope seems scarce. It's in these very moments that God's promise of new beginnings becomes most significant.
Well, be reminded that our circumstances do not limit God. Embracing new beginnings means placing your trust in Him, and believing that He can transform your wilderness into a fruitful garden.
God's desire is for us to experience His grace and transformation continually. Just as He led the Israelites through the wilderness, He will lead you through your challenges, opening up new paths and providing refreshments along the way.
In Revelation 21:5, we read:
Then He who sat on the throne said, "Behold, I make all things new." And He said to me, "Write, for these words are true and faithful."
This verse echoes the promise of new beginnings, emphasizing that God's words are true and faithful.
Call to Action:
Today, take a moment to reflect on areas of your life where you need a new beginning. Is there a relationship that needs restoration, a career change, or a personal transformation?
Trust that God can make a way, and take a step in faith to embrace new beginnings.
Prayer Points for Today:
Renewed Faith: Pray for the faith to believe in God's promise of new beginnings.
Open Doors: Ask God to guide you and open new doors in areas where you need a fresh start.
Courage: Pray for the courage to take action and embrace the new beginnings God has for you.
Let's Pray
Our Father, we come before you with hearts full of hope. We thank you for your promise of new beginnings and transformation. Today, we embrace the opportunities you provide and trust in your guidance.
In the mighty and precious name of Jesus, we pray. Amen.
---
My prayer for you today: I pray that you may boldly step into the new beginnings God has prepared for you, finding hope, renewal, and purpose in each step of your journey.