Welcome to today's devotional, titled "Deliverance Dawns." Today, I'm here to assure you that, no matter the circumstances, deliverance is closer than you may realize.
I don't know why, but I just want to assure you that, today, no matter what you're going through, deliverance is available in the Lord.
Key Takeaways from Deliverance Dawns
Deliverance Dawns reminds us that God's deliverance is always near, and you're not to give up. That even in your moments of greatest vulnerability, deliverance is closer than you think.
Anchor Bible Verse of the Day on Deliverance Dawns
And it happened on the same night that the Lord said to him, 'Arise, go down against the camp, for I have delivered it into your hand.

Judges 7:9 (NKJV)
In this verse, we find Gideon, a humble servant of the Lord, facing insurmountable odds. With a small army of only three hundred men, God commands him to go down against the vast Midianite camp.
This moment is a testament to the divine intervention and deliverance that God provides to His faithful.
---
---
Key Explanations
Delivered it into your hand": This phrase signifies God's complete control and assurance that the victory is certain.
Midianite camp: Represents the challenges and adversaries that we face in our lives.
Reflection for Today
In my own life, I often confront situations that appear overwhelming, impossible even. This is exactly what the Midianite camp symbolizes – the trials, difficulties, and burdens that may feel insurmountable.
Just as Gideon was called by God to face his fears, we too are called to confront our challenges with unwavering faith.
Today, God wants us to understand that when we feel weakest and most vulnerable, that's when His power is most profoundly revealed. Beloved, you're never alone in your struggles.
Now, deliverance dawns, and we are called to trust in God's divine plan and believe in the victory that He promises.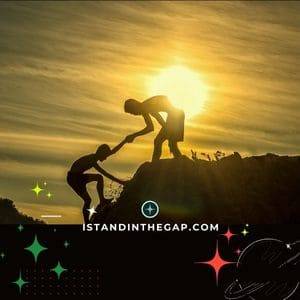 In 1 Corinthians 10:13, we read:
No temptation has overtaken you except such as is common to man; but God is faithful, who will not allow you to be tempted beyond what you are able, but with the temptation will also make the way of escape, that you may be able to bear it.
Here, we find assurance that God will always provide a way out, no matter how challenging our circumstances. Just as Gideon's deliverance dawned, our deliverance is also on the horizon.
As we reflect on our theme of deliverance dawns, we're reminded of the times when we face seemingly insurmountable challenges in our lives. It's during these moments that God's promise of deliverance is most powerful.
Like Gideon, we may find ourselves surrounded by difficulties and uncertainties. But just as God assured Gideon, He assures us as well. Deliverance is not a distant promise; it dawns on us when we trust in Him.
This reflection calls to mind Psalm 34:17, which says:
The righteous cry out, and the Lord hears, and delivers them out of all their troubles.
It echoes the same sentiment – that when we cry out to the Lord, deliverance is a certainty.
I may have no idea what your issues are, but whatever it is I want you to be assured and comforted that no challenge is too great for God to overcome, for His deliverance is not a distant hope but a reality you can experience today and forever. Note that what you call your struggles are opportunities for His deliverance to shine brightly in your lives.
Let this message sink deep into your heart today as you face your challenges. Remember that deliverance is nearer than you think. Embrace this truth, and let it bring you hope and strength.
Call to Action
Today, reflect on your own Midianite camps – your fears, worries, and challenges. Recognize that, like Gideon, you have been called by God to face them with courage. Seek divine guidance through prayer, and have faith that deliverance dawns even in the darkest hours.
---
---
Prayer Points for Today
Trust in God's Timing: Pray for patience and trust in God's timing, knowing that deliverance comes when He deems fit.
Strength in Vulnerability: Ask for strength in moments of vulnerability, just as Gideon found strength when he trusted God's guidance.
Gratitude for Deliverance: Express gratitude for past deliverances and pray for the ability to recognize God's hand in your life.
Let's Pray
Our Father, we come before you with gratitude and trust. We thank you for the assurance that deliverance dawns in our lives, just as you promised to Gideon.
As we face our challenges, we trust in your timing and strength. Help us recognize your hand in our lives and grant us the faith to believe that deliverance is closer than we think.
In Jesus' mighty and precious name, we pray. Amen.
---
My prayer for you today: As you face the challenges of this day, may God grant you the strength to overcome, the wisdom to make sound choices, and the faith to trust that deliverance dawns in the midst of your trials.